Please contact us on any of the following:-
General enquiries by Email
Telephone: 01962 852804
Email: office@stpeterswinchester.org.uk
Parish Priest: Fr. Mark Hogan
Assistant Priest: Fr. Anthony Njingo
Priest: Fr.Stephen Vooght
Priest in Residence: Canon Peter Wilkie
Retired Priest: Msgr Tom McGrath
Deacons: Rev. Gerard Dailly & Rev. Martin McElroy
Director of Evangelisation and Leadership: Allegra Mutanda
Pastoral Worker (Co-ordinator: Baptism & First Holy Communion): Rosanne Walker
Pastoral Worker (Youth Ministry): Jo Donaldson
Sacristan: Laurie Howe
Finance & Property Manager: Annette Parr
Facilities & Resources Manager: Sean Reidy
To contact any of our clergy or staff please email: hello@stpeterswinchester.org.uk
---
---
Useful contacts:
PeterCares: petercares@stpeterswinchester.org.uk
Prayerline: prayer@stpeterswinchester.org.uk
Newsletter: editor@stpeterswinchester.org.uk
Newsletter list: hello@stpeterswinchester.org.uk
St Peter's School Office: 01962 852820
For stewarding and volunteering: please email Anna on annasmyllie@outlook.com
---
There are four churches in the parish of St Peter and the Winchester Martyrs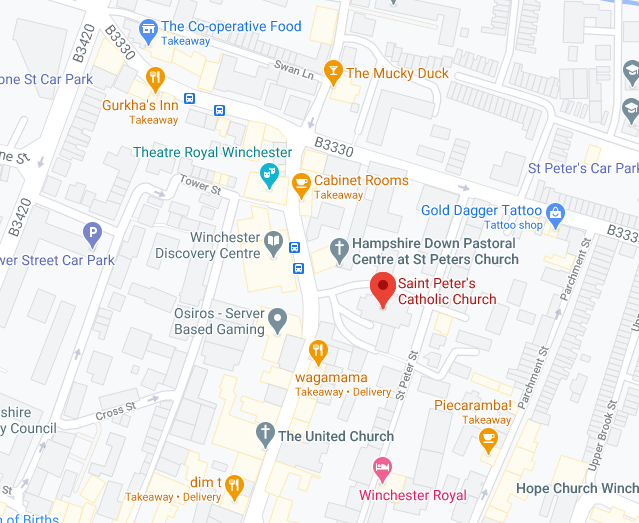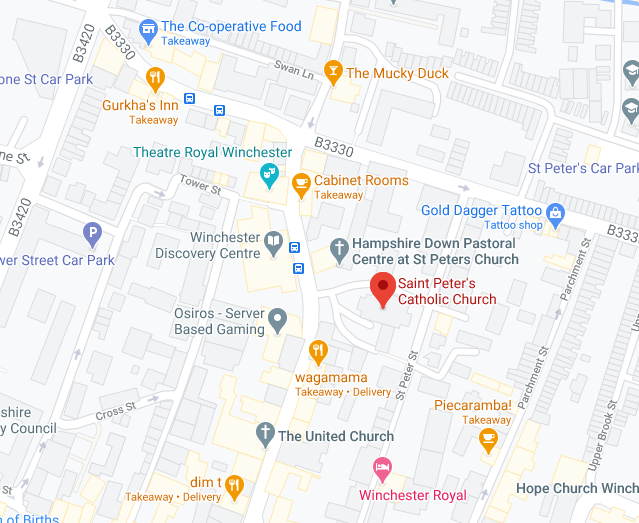 St Peter's Church
Jewry Street
Winchester
Hampshire
SO23 8RY
Sunday masses: vigil mass, 5.30pm Saturday, then 12noon & 5.30pm Sunday – open to the public, booking required, also livestreamed
10am Sunday mass: livestream only
There is also public & livestream mass every weekday
Church open 1130hrs -12 (till 11.45 Sundays) each day for private prayer and Adoration. See homepage or newsletter for full details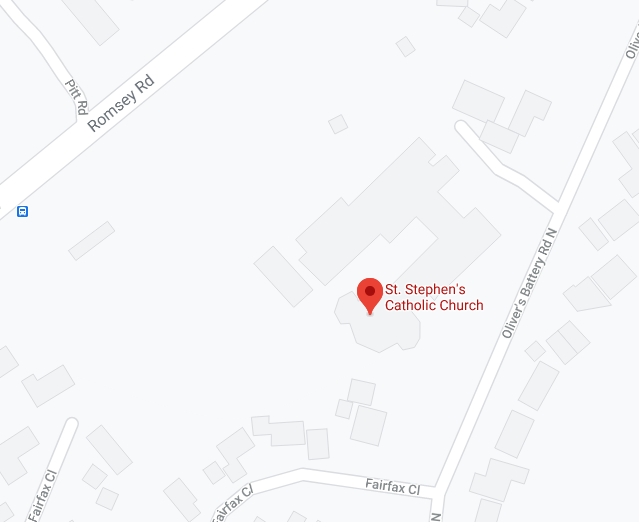 St Stephen's Church
Oliver's Battery Road
Winchester
Hampshire
SO22 4JB
Sunday mass 9.15am – booking required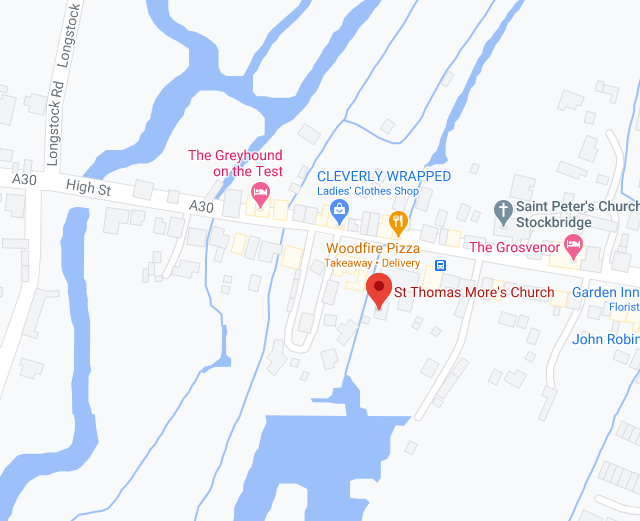 St Thomas More's Church
High Street
Stockbridge
Hampshire
SO20 6HD
Sunday mass 9am – booking required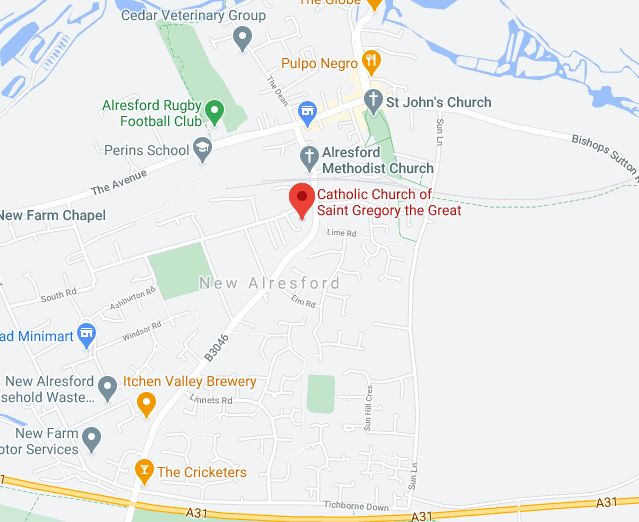 St Gregory the Great's Church
Grange Road
Alresford
Hampshire
SO24 9HD
Sunday mass 11am, booking required
See homepage for details, and for weekday masses
---
Registered Charity 246871
---
Acknowledgements
Aaron Britton took most of the pictures.
We would like to thank him, along with all those others who contributed:
Joe Low
Tim Redmond
Mike Roe
Fr. Lawrence Lew, O.P.
John Thornhill
Members of the Parish
and with thanks also to the The Walters Art Museum, Baltimore, who generously allow the use of pictures of their works of art.