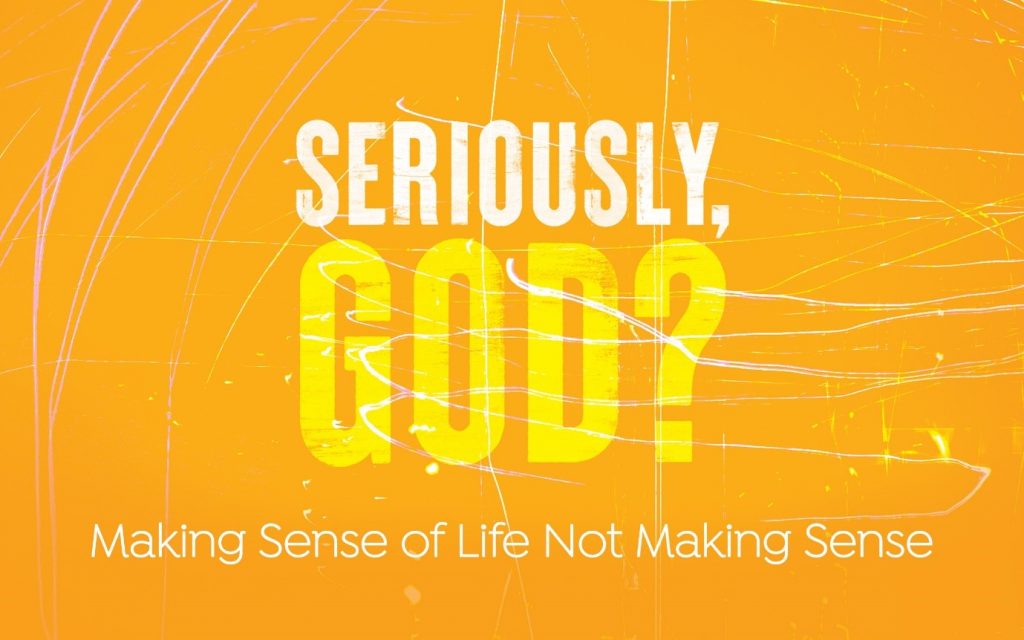 Welcome to this exciting spiritual Lenten journey
Seriously, Good! What a wonderful buzz the first 2 weeks of meetings have generated: we have listened, discussed and shared to help each other make sense of life – at this time it could not be more relevant. Many participants have said how much they welcome the opportunity to discuss their responses to current world events, and our feelings about God when times are hard.
We can still squeeze you in to one of the small groups, and you an easily catch up – click on the button below.
And it is not too late to participate in this Lenten journey in other ways. Come to Mass and listen to Father Mark & Father Anthony, and sign up for daily emails which help us step by step to make sense of life not making sense! – see button below
The small groups use an eight week video and book study of Seriously, God? Making Sense of Life Not Making Sense by Fr. Michael White and Tom Corcoran
Each week we watch a short video and cover a chapter from the book, exploring the feelings we experience when we face hardship, pain, and grief: we journey through Lent with each other as we come to a place of deeper faith in God.  Experienced leaders guide the groups and the meetings last around an hour. 
This is a great way to prepare for Easter and we look forward to welcoming you.
You can also sign up to receive daily email messages from Fr Mark – a short read each day, accompanying the 'Seriously, God?' project.
If you have any questions not answered below, please contact us on hello@stpeterswinchester.org.uk
How do I sign up?
Click on the buttons below:
I didn't sign up early – is it too late?
NO! Click on the button and we'll help you catch up, or email us
Why should I join?
Lent is a time to develop your spirituality and grow in your faith, and this initiative will give us a chance to join together as a community.
What else should I know?
You will receive a free book; the groups have experienced leaders; you will discuss new topics, explore your faith with members of our parish and travel on a spiritual journey.
How will the groups be organised?
When you register you will complete a form. We offer a choice of meeting in person or online. You will select a first and second choice for meeting times – it may not be possible to give everyone their first choice, providing us with a second choice will hopefully help us in this process. We aim to keep the groups' size to 10 people.
If you do not have online access please complete a paper registration form available in church.
How many people will be in each group?
There will be between 4-10 people in each group.
How long will each session last?
The meetings will last around an hour.
Where will the groups be held?
There are a number of places the groups will meet including the Pastoral Centre, parishioners' homes, online and anywhere where there is space!
What happens if I miss a meeting?
It will be possible for you to follow the chapter and theme in your own time – each week information will be emailed via Flocknote.